Discover
Thee Dolls Diary
Come Have a look at our Newsletter and experience our adventures first hand. Where we go you go; just hit our subscribe button and view all the fun we have, whether its is our home town Myrtle Beach or in other states. Stay up to date.
Come play with us..
Thee Dolls & Golf Balls
Put Put is all over Myrtle Beach, join thee Dolls and see thee victor.
From Thee Dolls to Yours, Happy Thanksgiving
Our Dolls are professional cooks and their ready for Turkey Day!!
Amateur Nights
Compete for a chance to win $1000 every Wednesday night. Bring all of your friends to help you win our first prize.
Active Party
Join one of the hottest Retro, Throwback, Old-school music PARTIES in Myrtle Beach. Come get "Active" with us.
Techno Flav
Join Thee DollHouse for a night of drinking and dancing, backed by an unrivaled light show and the best EDM.
Vegas Nights
Join thee Dolls in LAS VEGAS; painting the city red.
Dolls Wear Thee Crown
Our girls are Queens and we're talking about they have the crown to prove it.
Dolls & Driving
A car is a work of art and so are our Dolls.
Get behind the wheel with us as we takeover the racecourse.
All Dressed Up
Birthdays snd outings are our things we show up and show out!!
Exotics, Elegance & Etiquette.
Play Time
We are the stars of this show, join one of our photo sessions. we have so much fun behind the scenes.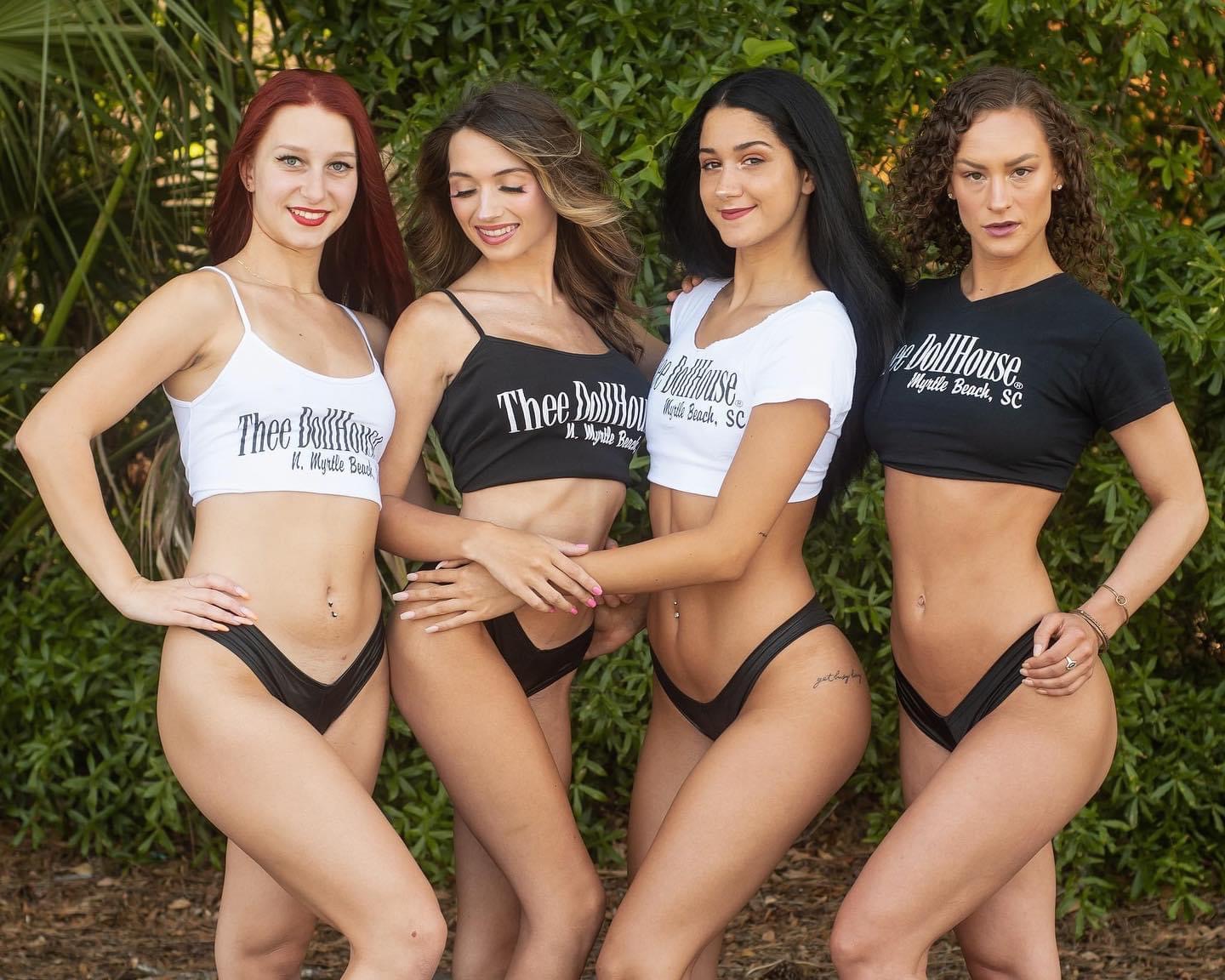 Do you have what it takes?
We have a specific type that we like to consider our dolls and we're hiring.
Are you a DollHouse Doll?
Halloween
With Halloween right around the corner we have a lot of planning and a lot of photoshoots .
Boats & Babes
Hight Speed Chase and High Speed Boats, come catch the girls sunbathing in water sports.
Jeep Jam
Check out the fifth annual Myrtle Beach Jeep Jam with our dolls! The three-day festival celebrates all things Jeep.
Halloween Party
It's that time of the year again, our annual Halloween Party!! Come win some cash for best dressed in costume.
Entertainer Foxy
Wins Doll of the month
NFL Packages
We are always have the games on, come watch them on our big screens
2-4-1
We wear gowns most of the time, but we have fun costumes throughout the night. its called 2- For -1
Hosting all Bike Weeks
We are bike friendly, come enjoy our Bike Week events at Thee DollHouse. Your gonna love our girls on your bike.
Vip Experience
We have the finest bottle selection, for a reasonable price. It comes with a section, your very own waitress and host.
UFC
Thee DollHouse Dolls served their community as ring girls this weekend.
Happy Hour
Before 8pm we have all the happy our specials, drink & food.